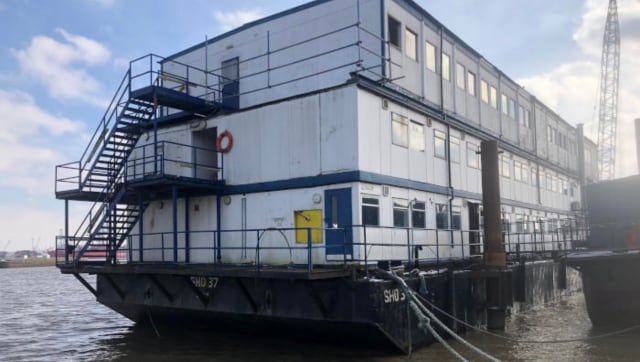 Representational Image. Source: Twitter
London: The government of the United Kingdom has decided to stop giving pricey hotel accommodation to illegal channel migrants.
In the new setting, the government is planning to house the illegal migrants in giant barges and ex-RAF bases in order to cut down on the hefty £3.5billion, as cost of asylum accommodations provided earlier.
Robert Jenrick, the minister of immigration, is expected to announce the developments on Wednesday.
The barges are meant to be a "deterrent, not a magnet," according to the Home Office.
According to plans, immigrants who enter Britain unlawfully on small boats will not be given free accommodations in opulent hotels.
Small boat landings will be stored at RAF locations and on enormous static barges.
A fleet of floating ships with accommodations made of shipping containers that can hold hundreds of people is about to be unveiled by ministers.
Robert Jenrick, the minister of immigration, will make the statement after it was revealed that the astonishing £3.5 billion asylum hotel bill from last year was equivalent to one-third of Britain's international aid budget.
In nearly 400 hotels across the nation, 51,000 asylum applicants are being housed currently, as per reports.
In an effort to reduce the enormous costs associated with the illegal immigration crackdown, PM Rishi Sunak has pledged to completely stop using hotels.
However, for the time being, only newcomers will use the new platforms, sources told media.
According to reports, local officials are having trouble finding places to house new arrivals, so some hotels have been blocked booked for another 18 months. Last year, the figure increased to 45,000.
The additional housing is intended to serve as a "deterrent, not a magnet" for migrants considering attempting the perilous Channel crossing, according to the Home Office.
It draws attention to the fact that France and other EU countries are already housing migrants in floating vessels.
In offshore construction and the oil business, accommodation barges are frequently used to provide workers with bare-bones lodging and food.
Sites will have a variety of amenities and round-the-clock security in an effort to discourage people from having to leave.
Onshore activity will be restricted for those on board.
Despite the rage of the locals, large-scale self-contained sites like RAF Scampton and the old RAF Wethersfield will also be used to detain illegal immigrants.
In an effort to allay residents' concerns regarding the additional numbers moving to their area, a package of additional funds and measures for local officials is anticipated to be announced.
Sir Edward Leigh and James Cleverly will be among the disgruntled MPs Mr. Sunak and Home Secretary Suella Braverman will inform that detention facilities will be created in their regions within days, claiming that it is in the "national interest."
Read all the Latest News, Trending News, Cricket News, Bollywood News,
India News and Entertainment News here. Follow us on Facebook, Twitter and Instagram.