CNN
 — 

When Loni Philbrick-Linzmeyer decided to walk the Camino de Santiago, she was adamant this was something she had to do alone.
It was 2013. Loni was a 29-year-old Californian school teacher who was "at a crossroads." She'd just endured a tough break-up and was feeling adrift.
"It really spun me into questioning my own values and my own future – whether I wanted kids, what was my path for that?" Loni tells CNN Travel today. "Workwise, I was also in kind of a rough spot, I had a really tough year of teaching."
As she tried to escape these feelings by socializing and keeping busy, at the back of her mind, Loni knew what she really needed was time to pause and reflect. She was a "bit fearful" of what would happen if she just left things rolling on, unchanging. Would she end up stuck? Even more unhappy?
One night, tossing and turning and unable to sleep, Loni decided, definitively, that she was going to take action. Some late night Googling led her to discover the Camino de Santiago, the famous pilgrimage trail that spans some 500 miles (800 kilometers) across France, Portugal and Spain. The historical pilgrimage's multiple routes conclude in the Spanish city of Santiago de Compostela, at its spectacular cathedral.
Loni booked a plane ticket to Paris there and then.
"It was very spontaneous, very random, but also at a moment in time where I just knew I had to do something else to really shake up the habits that I had – and give a lot of reflection time to my life and where I wanted to go and who I wanted to be," says Loni. "So that's how I came to the Camino."
Over the next two months, Loni trained and prepared for the adventure. Her loved ones were supportive, albeit a little concerned about Loni embarking on the trip alone. But Loni was adamant this needed to be an independent adventure, so her parents bought a large map of the Camino route and hung it in their house to map Loni's progress with sticky dots as she updated them on her movements.
Across the Atlantic in Denmark, 24-year-old Kjartan Bergqvist was halfway through medical school and questioning his decision to become a doctor. Was it the right path?
An ex-girlfriend had once mentioned the Camino de Santiago – before then, Kjartan had never heard of it – but during late night study sessions when he should have been poring over medical textbooks, Kjartan found himself thinking about the Camino. In the end, his decision to embark on the trek was even more spontaneous than Loni's.
"I went into Copenhagen, bought some hiking boots and a bag and basically left the next day on the train to Paris," says Kjartan.
Like Loni, Kjartan felt strongly that this needed to be a solo trip – so much so, that he didn't even mention the Camino to any friends or family. He told his parents he was planning to travel around Europe, but kept specifics vague.
Loni and Kjartan set off from Paris within days of each other, each soon finding solace in life on Camino.
There was something comforting – and exciting – about waking up each day and walking solidly. There was endless time for reflecting and thinking things through alone. There was also plenty of opportunity for connection with fellow hikers.
"It's very open on the Camino," says Loni. "It can be as independent or as social as you want or need on the day."
Sometimes Loni would walk with other travelers for a little while. Other times she'd stay solo for long stretches, but enjoy greeting friendly faces along the route. Fellow walkers were instantly recognizable, with their backpacks and hiking boots.
"Sometimes you have extended conversations with people, regarding all different kinds of topics, sometimes it's really deep emotional stuff. Other times, it's more superficial," says Kjartan.
Whenever Kjartan or Loni would cross paths with fellow pilgrims – as Camino walkers are often called – they'd offer the same warm greeting: "Buen Camino."
"It's such a good phrase, because it means hello and farewell at the same time," says Kjartan.
It was around two weeks into their respective trips that Kjartan and Loni first met. They were in a forested area, not far from the Spanish city of Burgos.
"Buen Camino," they said to one another as their eyes met. Then Loni commented on the weather – there were some clouds in the distance, and she was excited by the prospect of rain. She lived in California, she explained, where it never rained.
"I'm Kjartan," said Kjartan. "I'm from Copenhagen, Denmark." It rained a lot there, Kjartan said, so as far as he was concerned, a rainy day in Spain wasn't too appealing.
The interaction was friendly, but brief – and neither of them suggested they walk on together, so Kjartan continued on ahead.
As he walked off, a surprising thought crossed Loni's mind: "I can move to Copenhagen for that guy."
"It was weird, it wasn't love at first sight," says Loni today. "I think I ended up forgetting his name later – but certainly there was a moment of, 'Okay, maybe I'm kind of interested here.'"
As Kjartan strode on ahead, he found himself hoping he'd cross paths with Loni again.
And sure enough, that evening the two strangers ended up in the same Burgos inn, which was filled with other Camino walkers.
"Typically in the evening, people kind of gather, maybe have some wine and some chat and then hit the bed early, to be ready the next day to continue walking," says Kjartan.
When Kjartan spotted Loni walk in, he was thrilled.
"I ran straight over," he says.
"That's when I forgot his name," says Loni, laughing. "But it is a bit hard for Americans to say Kjartan."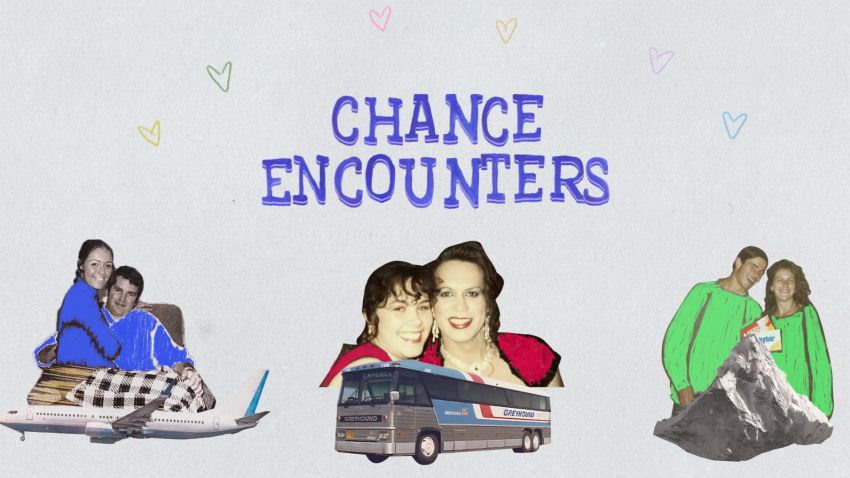 Meet the couples who fell in love while traveling
The two talked a little bit that night, but most of the conversation was in a group setting, as fellow Camino walkers shared stories with one another and compared blisters.
At one point Loni mentioned that she was planning to take the following day as a rest day and explore Burgos. Kjartan hadn't been intending to linger, but he figured maybe he'd do the same, in the hope another opportunity to spend time with Loni might arise.
"I just went to bed that night really wanting to talk to you the next morning," Kjartan tells Loni today.
He was so excited by the prospect that he barely slept. The next morning, he "jumped out of bed and ran downstairs."
There was Loni, preparing to head out and explore the city.
"Do you want to get a cup of coffee?" Kjartan asked her.
"Sure, sounds great," said Loni.
She was pleased, but also a little surprised.
"Honestly, I mean, it was a bit unexpected – there were not any other situations on the Camino where someone asked to get a cup of coffee with me," says Loni today.
As a result, the invite took on a formality that it wouldn't have done back home. It kind of felt like a date. But it was just coffee. Maybe Kjartan was just being friendly? Or he just really liked coffee?
"When we sat down and started talking, I had to maybe tease apart what your intentions were – if it was because you were interested in me or you just wanted a cup of coffee," Loni says to Kjartan today.
"But actually, once we started talking, very quickly the conversation flowed really easily."
Loni and Kjartan were just settling into a flow when they were interrupted by a Canadian Camino walker, Liz, who recognized them from the evening before – and didn't quite pick up on the romantic vibes.
"She had a sore knee and couldn't walk that day," explains Kjartan. "So she actually joined us, and we ended up a little group of three – and we just hung out in the city, because it's a beautiful place."
The group spent the day soaking up Burgos, strolling the streets, popping into a museum. In the evening, they went out for sangria and Liz retired early, leaving Kjartan and Loni to pick up where they'd left off in the morning.
By then, there was no question there was something between them. It was an amazing evening, but the next day Loni woke up feeling conflicted.
"I had this super strong reaction where I just thought, 'I didn't come here to have a fling. I didn't come all this way to meet some guy and hang out for two weeks,'" she says.
Loni voiced her concerns to Kjartan, who understood where she was coming from.
"I had been very conscious about not wanting to join a group up until that point," he says. "But I also remember a shift, meeting Loni."
The two decided to spend the next day apart, but reunite in the evening and talk about how to proceed.
In the meantime, Loni confided in her new friend Liz, talking through her concerns. She surprised herself with her conclusion.
"I actually realized that the most vulnerable thing that I could do – and probably this was the growth that I was most searching for – would be to open myself up to actually walking with someone else," she says.
"So what I thought I had gone to do as a very independent thing ended up needing actually to be more open, more vulnerable, more exposing."
When Loni and Kjartan regrouped, he jumped in first – saying he thought they should walk the rest of the Camino independently – he wanted to respect Loni's feelings and original intentions. But Loni interrupted. She'd had a change of heart, she explained.
"You know what? I actually want to walk with you," she said.
And so Loni and Kjartan set off from Burgos together, with Liz rounding out the group.
Both Loni and Kjartan were glad Liz was there too – she was funny and good-natured, great at keeping things fun and light. And she quickly became a great friend to both Loni and Kjartan.
Every day, the two would wake up and check in with each other – did they still want to walk together?
"Most days for the rest of the Camino, the answer was yes. And we walked together. And there were some days where we said, 'No, I need some time apart today.' And we just agreed where we would meet up," says Loni.
The days rolled on, and Loni and Kjartan grew closer. They'd hike through stretches of Spanish countryside, sharing stories about their lives and how they felt about everything – from their hopes for the future to their views on marriage.
Loni had also reached a conclusion to one of the questions that had been bothering her before the trip – she now knew she wanted children. And Kjartan told her early on that having a family was important to him too.
Prior to Loni and Kjartan meeting, they'd both been focused on the ultimate goal of reaching Santiago. But somehow that goal didn't seem as important anymore. They were more open to unexpected detours – like the time they spent a whole day and evening at a quirky, hammock-filled B&B, where chickens ran around at their feet and a donkey brayed in the background.
"Santiago didn't really matter anymore," says Kjartan.
"Something had switched," agrees Loni. "The realization that actually it's the journey and it's those moments along the way that you don't anticipate that actually made it really memorable."
Time on the Camino also seemed to operate at a different frequency to time in the "real world."
"Those three weeks felt a lot longer, in a good way, a very good way," says Kjartan. "I was just flying so high – obviously very much in love, and it's summer, and there's no place you have to be other than where you are at the moment."
But as they approached Santiago, Loni and Kjartan were overtaken with excitement, an urge to see the finish line.
Liz wanted to walk a little slower, so on their final day, Loni and Kjartan hiked as a twosome, trekking some 31 miles (50 kilometers) and arriving into Santiago in the middle of the night.
It was surreal, seeing the Cathedral at last, illuminated only by moonlight. All the hotels were closed, so the two slept on the street, sharing a single sleeping bag.
"I realized that I did not want this to end, I didn't want to go home without having Loni in my life," says Kjartan.
Loni felt the same way. And swapping contact details and promising to stay in touch didn't seem enough. Even committing to a long distance romance felt lacking.
"I don't want to go home without you," Kjartan told Loni, the day after they'd arrived in Santiago.
"Me neither," said Loni.
"It's settled then," said Kjartan.
"What do you mean?" asked Loni.
"Do you really need me to ask you?" asked Kjartan.
"Yes, I do," said Loni.
So Kjartan said the words aloud: "Will you marry me?"
Loni was overjoyed.
"In my secret desires, I'd wanted it," she says of the proposal. "I think I was excited and, you know, a little nervous, but also, I don't remember having any doubt that it was the right choice and that we would be able to do it. It was just clear as day – this is the path."
The day before, Loni had FaceTimed her mom and introduced her to Kjartan for the first time. Now, she texted her excitedly, "I'm engaged!"
She decided to wait and tell her friends once she was back in the US. As for Kjartan, he sent his parents a postcard filling them in, "saying I was engaged and very excited, but they had to wait for the story until I came home."
Loni found herself returning to the thought she'd had when she first saw Kjartan – she would move to Copenhagen for him. It wasn't just a romantic notion, there was a practical element to this decision: Kjartan was still in medical school, but as a teacher it would be easier for Loni to work anywhere.
Then it was time for Loni and Kjartan to, temporarily, go their separate ways. Saying farewell wasn't easy. But they departed excited and confident in their shared future.
"I really believe that we decided not to spend the energy deciding whether we should be together, but pour that energy into figuring out how to be together in the best way possible," says Loni.
"Making that active decision on both ends helped us survive the whole going home, back into our own lives," says Kjartan. "We were very determined and made an active decision to be together, and that was the most important thing."
Saying goodbye to one another was sad, but saying farewell to life on the Camino was almost harder. Loni and Kjartan had loved the simplicity of waking up each day, walking with a goal. They'd loved the community too. It was hard to leave it behind.
Loni says she returned to California determined to "hold onto the Camino and the spirit of the Camino."
"When I left the Camino, I felt so at peace, just a sense of peace in myself," she says.
In early 2014, six months after they first met, Loni and Kjartan got married in a courthouse in San Diego, California. They kept their nuptials small, planning a larger celebration for that summer. But Liz flew in from her home in Canada to surprise them, and it seemed only right she acted as one of their witnesses. Loni took Kjartan's name, becoming Loni Bergqvist.
The subsequent summer wedding was a weekend of celebrations, and was also the first time many of Loni and Kjartan's friends and family met. By the end of the weekend, they were a tight, multinational family.
Liz officiated the proceedings, sharing the story of how she'd unintentionally interrupted Loni and Kjartan's first date, and then had a front row seat as their relationship unfurled on the Camino. Loni and Kjartan wrote their own vows, and read them to one another.
It was still a little while until the couple lived in the same country – before she got a job in Denmark, Loni got a job in London. But eventually, in 2015, Loni moved to Copenhagen, and in with Kjartan. The couple gave birth to their first child not long after.
Today, Loni and Kjartan are still in Denmark, where they're enjoying bringing up their three bilingual children. Kjartan recently quit medicine and is now studying theology, while Loni has her own education consultancy business.
For both Loni and Kjartan, building their own family has brought them joy and fulfillment. Loni says it's amazing to see their kids, "become these awesome little people with their own strong personalities and way of meeting the world."
The couple still strive to keep "the spirit of the Camino" alive in their day to day lives. But as time goes on, Loni and Kjartan find themselves reflecting less on the origins of their love story, and more on what happened next, and where they are today.
"I feel like it's not hard to go to Spain and fall in love – but it's really taking the decision to commit and do the work that it takes, that's what I'm really proud of," says Kjartan.
"There's a reality to falling in love and taking a decision to get married," agrees Loni. "There's also a reality of moving to a foreign place, without your family or friends or knowing anybody except for one person."
Loni loves living in Denmark, but she's also had to acclimatize to cultural differences and adapt to living far away from loved ones. Kjartan says he's always conscious of that, calling their relationship, "inherently asymmetric in certain aspects."
"Loni has left everything behind to be with me in Denmark. I have not sacrificed the same for Loni. I'm in my own country surrounded by my family and friends," he says.
Loni became acutely aware of the reality of living far from her home country when her parents unexpectedly passed away, her mother in 2016 from complications with lung cancer and her dad from a heart attack in 2021.
"My parents loved to come visit in Denmark. My dad was learning Danish and would visit every three months after my mom died," says Loni.
Loni says she's grateful for Kjartan's continuing support as she comes to terms with the loss of her parents.
"Being able to support a partner who is grieving has given us a deeper bond," she says. "What you need in grief is a bit unexplainable, but Kjartan has been able to be there and pick up the pieces during two fairly traumatic deaths. I honestly don't know what I would have done without him."
Loni and Kjartan are as confident in their future today as they were that day in Santiago, when they got engaged after knowing each for just 23 days.
"There's a saying on the Camino, and it's 'the Camino provides,'" says Loni. "That can be anything from – you have a twisted ankle and there's help that comes, or there's a situation in which you can't see clearly and someone talks you through that and helps you see clarity."
Loni and Kjartan believe the Camino provided them with one another.
"Kjartan and I both went thinking that we desired a certain thing and that we needed a certain thing. And I think what happened was that the Camino provided something else unexpected," says Loni. It wasn't what they expected, but it was absolutely what they needed.
Kjartan thinks it was "divine timing."
Loni's less sure about fate or destiny. But whatever it was, it "was certainly something very special."
Correction: An earlier headline on this story misstated the time frame in which the couple became engaged.